Casey & Henry | Romantic Garden Inspired Fort Worth Wedding
the date:
September 14th, 2019
the venue
In Collaboration with:
Amanda Lane Photography, Take 4 Films, BRIK Venue, Blushington Blooms, Etoilly Artistry, Pink Champagne Designs, Perch Event Decor, 501 Rentals, DFW Dance Floors, Creme de la Creme Cake Company, Sugarcreek Vintage Rentals, Blue Mesa Catering, May I Serve U, Its Your Night Entertainment, La Tavola Fine Linen, POSH Couture Rentals, Photobus DFW, Silver West Transportation
Their planning package:
Before the Big Day:
Casey and Henry were a blast to plan with! Being a TCU graduate myself, I was so excited to help this TCU couple plan their big day! And boy, did we incorporate a lot of touches from our alma mater. Casey wanted her wedding to be the perfect balance of romantic and fun! We chose shades of purple, lots of textured linens, and incorporated an abundance of candlelight to help create this cozy reception design. To sprinkle in some fun, we had custom made koozies with the TCU hand symbol, batman cocktail napkins (Henry's favorite superhero), and lots of "Go Frogs" chants throughout the night!
Being the quintessential Fort Worth couple, Casey and Henry wanted to get married at a venue that reflected their Fort Worth roots! The BRIK Venue served as the perfect backdrop for their vibrant and romantic ceremony and reception!
Casey and Henry tied the knot amongst their closest family and friends, against a backdrop of colorful and whimsical florals. Lush white petals and floating candles lines the aisle as Casey walked towards her future Husband! The heartfelt ceremony ended in a "GO FROGS" and a dance down the aisle from the wedding party.
Guests were then invited out on to the patio for cocktail hour where they were entertained with a photobooth bus and some festive lawn games! Casey and Henry were whisked away to the rooftop of BRIK for some sunset portraits while guests sipped on margaritas and made their ways to their seats.
The reception picked up right where the ceremony left off- with dancing! Casey and Henry's family and friends gathered as they were toasted by family, cut the cake, and enjoyed their first dances! Once the dance floor opened up, there was no stopping this party crowd! Late night pizza arrived just in time for guests to get a quick late night bite before sending off the new Mr. and Mrs. with a sparkler exit!
their story in pictures…
The Details
Casey and Henry's details were centered around the place they first met- TCU! Shades of purple were incorporated in their hand torn invitations, vow books, and throughout their wedding design. Casey described her dream wedding as being soft and romantic, and I think we nailed it!
Getting Ready
Casey and her bridesmaids got pampered in the ever so chic bridal suite at The BRIK while Henry and his boys were just downstairs getting ready in the groom's suite. Casey and Henry exchanged gifts and letters on their wedding day, and Henry even surprised Casey with a video she got to watch in front of all her bridesmaids and parents!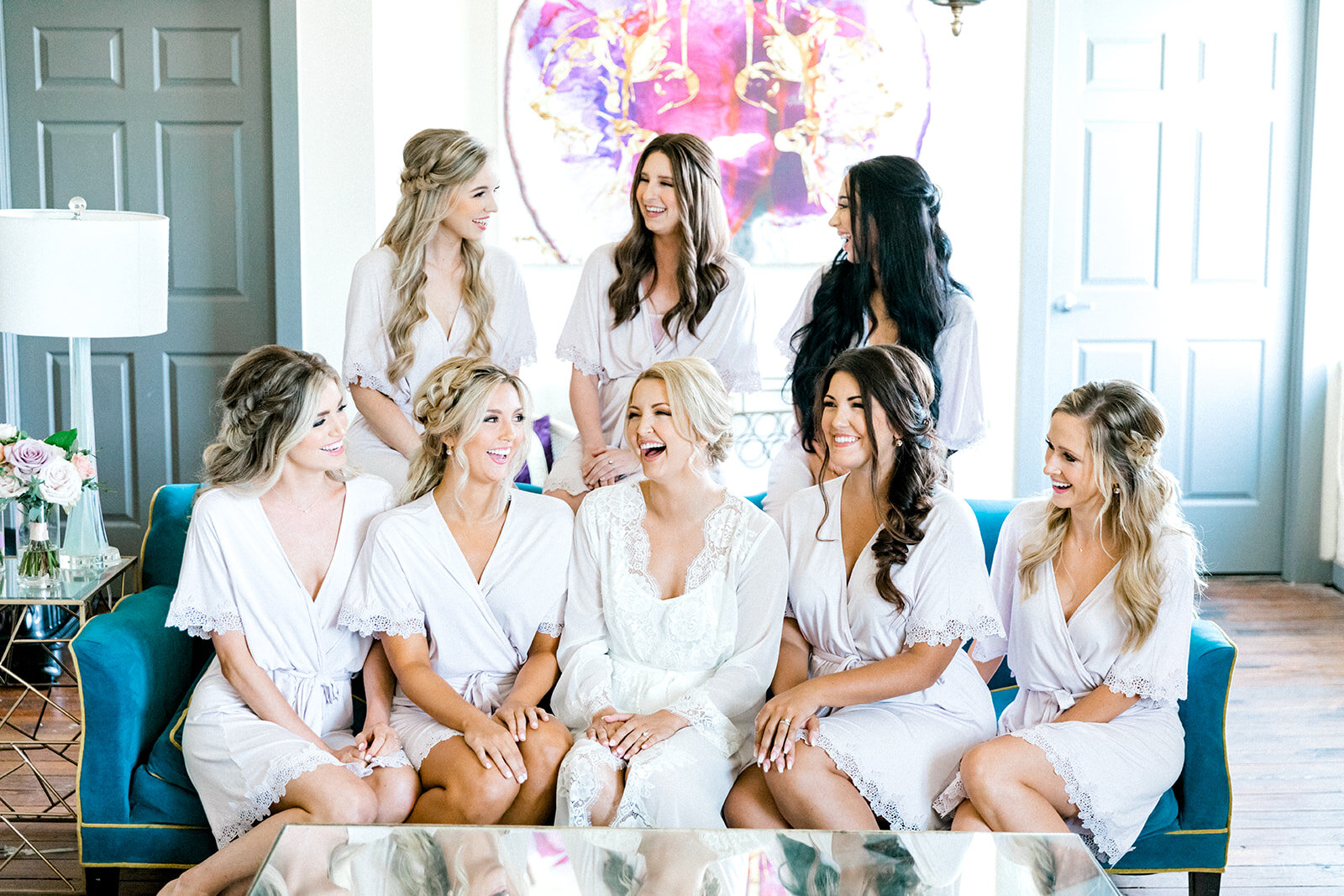 The First Look (s)
It is quickly becoming one of my favorite wedding trends- multiple first looks! Although Henry and Casey did not do a first look themselves, they did multiple first looks throughout the day! Casey did a first look with her dad and her bridesmaids. In addition, Casey and Henry both did a first look at their reception space!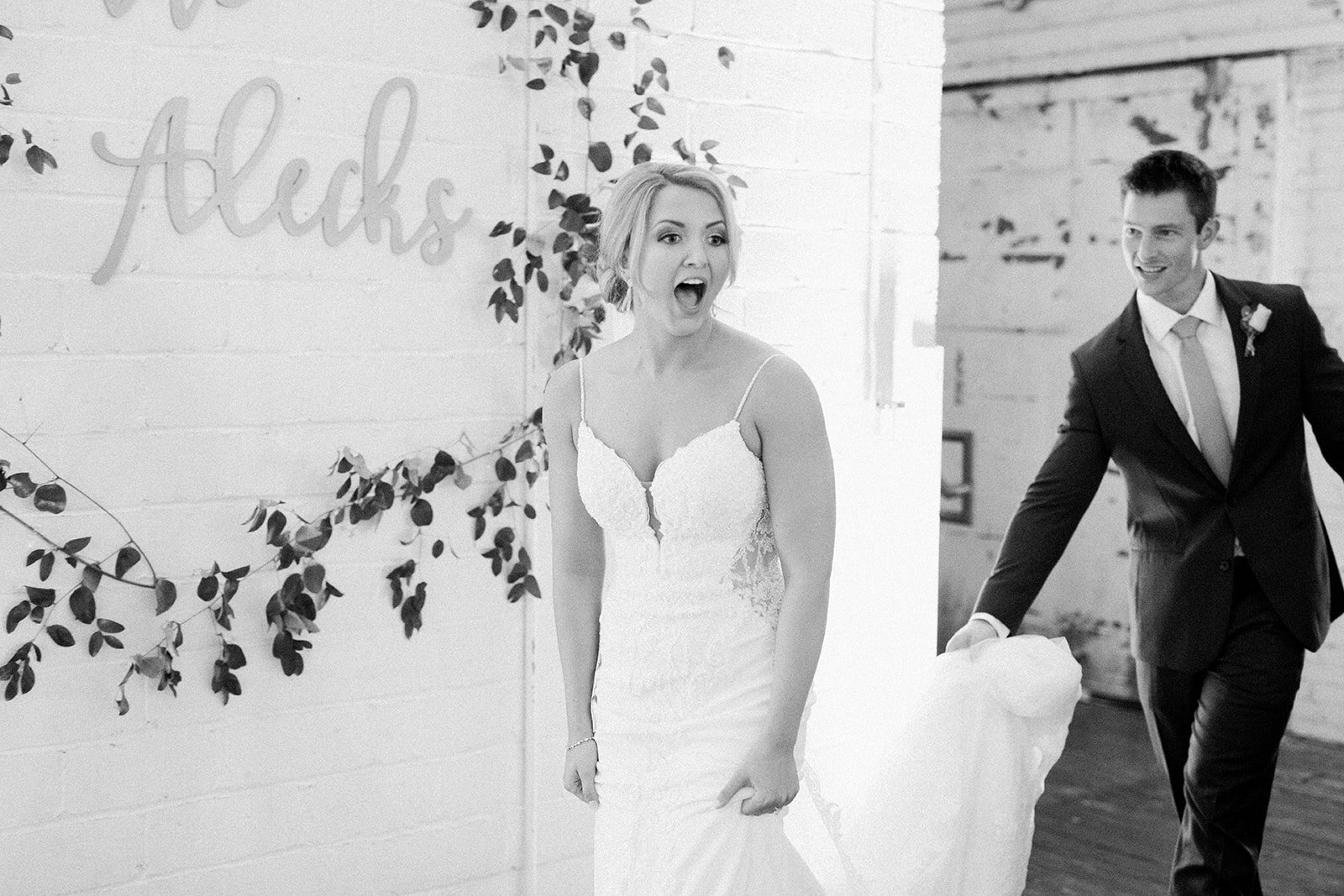 The Ceremony
Casey and Henry had one of the most fun ceremonies I have done to date! They tied the knot on the second floor of BRIK, with the aisle way lined with lush white petals, and a stunning floral backdrop hanging over the altar. The real showstopper however, was their recessional, where the bridesmaids and groomsmen danced down the aisle to Chris Brown's "Forever" (yes, just like a real life episode of The Office!)
The Party
This was a party crowd if I have ever seen one! Casey and Henry's reception was filled with good music and even better dancing! Light up cowboy hats and flower crowns filled the room as guests danced the night away on their custom monogrammed dance floor! Of course, no wedding is complete without a stunning sparkler exit and a gorgeous send off for the bride and groom!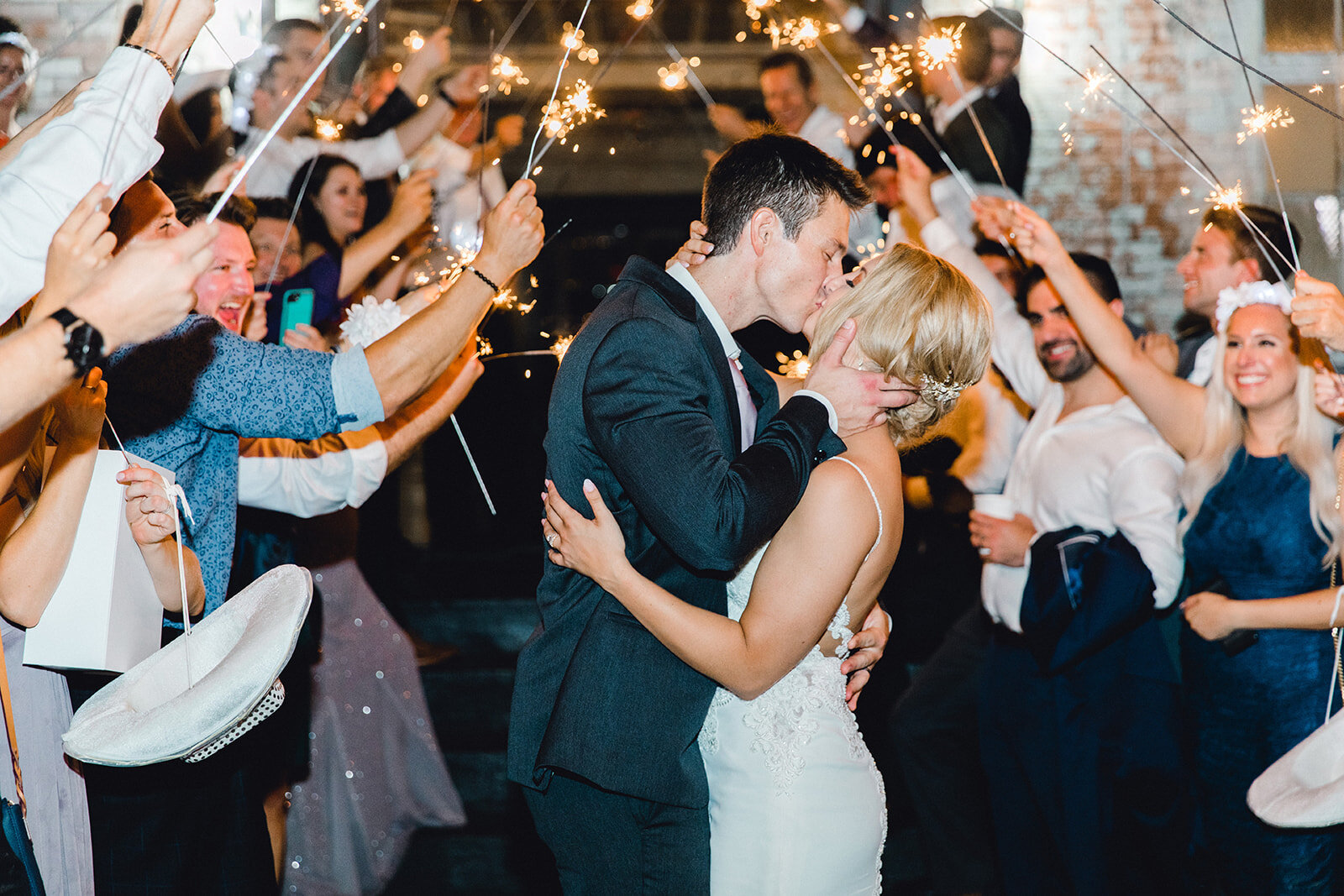 Check out more Sistered States Weddings on our Instagram and Pinterest Page!
five star Review on the knot:
"Sistered States was 100% the best decision I could have ever made for a wedding planner!! We hired her for the entire wedding planning process and she was an absolute dream! She made the whole process stress free and gave me monthly checklists of things I needed to complete which helped me to stay organized. She also helped give me a list of star vendors that helped make my wedding absolute perfection. I was completely clueless going through the wedding process, and Sarah made it so enjoyable. She helped me make the wedding even more incredible than I could have ever imagined. She came up with ideas that I would have never thought of and that made our wedding so beautiful and unique. Sarah was always honest with me during the process and letting me know areas I could splurge in and also areas that I could save money. On the day of the wedding, she took away all the stress and made our entire wedding vision come to life. When I saw our venue all set up, I couldn't help but cry! Her work is truly incredible, our wedding would not have been what it was without her amazing eye and attention to detail. Sarah also made sure to keep the day organized and make sure things got done even when we were running behind. I could not imagine our wedding day without her! Sarah, we can not thank you enough for all the hard work you put in to make our wedding day an actual dream."